Daikin Lite Series FTXF50W 5.0kW Split System Supply and Install
by daikin
Daikin Lite Series |FTXF50W | 5.0kW R32 Lite Series Inverter :
Daikin LITE systems – Reverse Cycle Technology for Heating and Cooling Solutions – Lite Series Inverter Wall-Mounted Split System Air Conditioner Featuring a Contoured, Matte White Flat Panel Design that Operates Whisper-Quiet while providing fast, evenly distributed cooling throughout the room. Comes with an Easy-to-use, Simple and Precise setpoint adjustment Controller for convenience without forgetting.
Designed with the latest cutting-edge technologies, the Lite and Multi Lite systems features a compact modern design, delivering air conditioned comfort more quietly than ever before An entry level single split and multi range, Lite and Multi Lite systems are packed with features and quality that you can rely on.
Reverse cycle split system for a small bedroom
Conscious of energy usage
Maintaining room ambience
2.0 kW Split System
5 Year manufacturers warranty
Features :
Economic Comfort
The Lite Series features up to 4.5 Star Rating energy performance (2.5kW model) in both cooling and heating operations.
Lifestyle Convenience
Features a simplified backlit wireless remote controller with precision temperature set point adjustment in 0.5°C increments and a built-in count up-down ON/OFF timer for convenient set and forget operations.
R32 Refrigerant
Enables increased energy efficiency and a significant reduction in 'Global Warming Potential Factor' - great for the environmentally conscious.
Compact Size
140 and 160 Class is now housed in a compact indoor casing for easier installation.
Whisper Quiet
When in quiet mode, the indoor unit noise level drops to a whisper quiet 19dBA (25 Class Model). You won't even notice that it's on.
Coanda Airflow
Discharge louvres designed to stream air along the ceiling for longer throws and delivering rapid cooling and even temperature distribution.
TECHNOLOGY:
NEW CROSS FLOW FAN
Allows larger volumes of air to get through more quietly with the large in diameter rotor with aerofoil blade design.
REDESIGNED HEAT EXCHANGER
Increased heat-change surface area, which improves the energy performance and capacity output.
NEW ODM MOTOR
New 10-pole DC outer rotor that is compact yet delivers higher torque more efficiently.
DESIGN EVOLUTION
V-CUT WING FAN –

 

With the new V-cut design and larger-diameter fan, increased air volume with reduced turbulence produces a quieter and more efficient operation.

TWIST GRILLE –

 

Angled to match the outdoor unit's flow, the Grille fins can now operate quieter due to lower resistance. With cutting-edge technology, featuring a compact and modern design while producing a more quiet air-conditioned comfort.
Daikin Lite Systems Backlit Wireless Remote Control

Operation Timers –
Schedule your unit to operate automatically throughout the day or week to suit your lifestyle.

Powerful Mode –
Gives a boost in cooling or heating for 20 minutes beyond normal capacity.

Comfort Mode –
Airflow is optimised to stream upwards during cooling and downwards during heating.

Quiet Mode – Operation sound levels are reduced by 2-3dBA for quieter heating and cooling.

Dry Function Mode – Automatic intelligent airflow and temperature control to reduce room humidity.

Econo Mode – Power consumption of the system is limited to prevent tripping your circuit breaker.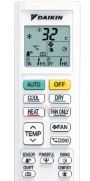 Daikin Cora Mobile Control – Optional Extra

Direct Connection – For locations without a Wi-Fi network, the app can wirelessly connect directly to the a wireless LAN adaptor equipped air conditioner, when in range.


WiFi Connection – A LAN equipped air conditioner can easily be joined to a local Wi-Fi network. Once connected, the system can be controlled from any networked Android or iOS device.

Internet Connection – All you need is a permanent internet connection for your Wi-Fi network, and an internet connection for your phone or tablet and you can monitor and control your system from virtually anywhere.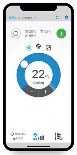 5 Year Warranty
Daikin's 5-year parts and labour warranty applies to split, multi split and ducted air conditioners purchased and installed in homes across Australia.
Specification :
Indoor Unit
FTXF50WVMA
Outdoor Unit
RXF50WVMA
Power Supply
1 Phase, 220 ~ 240v, 50Hz
Rated Capacity

| | |
| --- | --- |
| Cool (kW) | 5.0 |
| Heat (kW) | 5.2 |

Capacity Range

| | |
| --- | --- |
| Cool (kW) | 1.5 ~ 5.5 |
| Heat (kW) | 1.0 ~ 6.0 |

Power Input (Rated)

| | |
| --- | --- |
| Cool (kW) | 1.44 |
| Heat (kW) | 1.44 |

EER / COP
3.47 / 3.61
AEER / ACOP
3.46 / 3.59
Energy Star Ratings

| | |
| --- | --- |
| Cool | 3.5 / 3.0 / 3.0 |
| Heat | 3.0 / 2.5 / 1.5 |

Residential TCSPF/HSPF

| | |
| --- | --- |
| TCSPF (Hot/Average/Cold) | 5.02 / 4.73 / 4.97 |
| HSPF (Hot/Average/Cold) | 4.67 / 4.06 / 3.48 |

Dimensions (HxWxD)

| | |
| --- | --- |
| Indoor (mm) | 285 x 770 x 223 |
| Outdoor (mm) | 595 x 845 x 300 |

Weight

| | |
| --- | --- |
| Indoor (kg) | 9 |
| Outdoor (kg) | 41 |

Refrigerant Type
R32
Max Pipe Length
(m)
30
Max Level Difference
Pipe Sizes

| | |
| --- | --- |
| Liquid (mm) | 6.35 |
| Gas (mm) | 12.70 |

Ambient Temperature

| | |
| --- | --- |
| Cool (°C) | -10 ~ 46 |
| Heat (°C) | -15 ~ 18 |

Indoor Airflow Rate

| | |
| --- | --- |
| Cool (l/s) | 210 |
| Heat (l/s) | 213 |

Indoor Sound Pressure Level (H/SL)

| | |
| --- | --- |
| Cool (dBA) | 45 / 28 |
| Heat (dBA) | 45 / 28 |

Outdoor Sound Pressure Level (H/SL)

| | |
| --- | --- |
| Cool (dBA) | 45 / 28 |
| Heat (dBA) | 45 / 28 |

Outdoor EPA Sound Power Level (H)

| | |
| --- | --- |
| Cool (dBA) | 59 |
| Heat (dBA) | 59 |