Samsung AR9500 Wind-Free Geo 8.0kW F-AR30TXEABWK1 Split System Air Conditioner
by Samsung
The Samsung Geo Air Conditioner is designed to make you feel like you're living in a 5-star hotel, with the central air conditioning system. The Samsung AR9500 Wind-Free GeO Split System Air Conditioner can cool up to 1440 sqft. and stay as quiet as 28db, but still provide maximum efficiency over larger spaces. 
Key Features :
Warm your home this winter
Rethink heating this winter. Warm your home in the cooler months with our innovative air conditioning technology.
Cool down fast, without the cold blast

WindFree™
Stay comfortably cool with WindFree™ Cooling.* It is designed to gently and quietly disperse air through 23,000 micro air holes, so there is no unpleasant feeling of cold wind on your skin.
Energy Superstar
WindFree™* Cooling Mode
When operating in WindFree™ for Cooling mode, the outdoor unit consumes over 77% less energy than when operating in Fast Cooling mode.** 
Supporting a restful night's sleep
WindFree™* Good Sleep
WindFree™™ Good Sleep mode can help you to create the ideal sanctuary for sleeping – without an unpleasant cold air flow. Its temperature control with WindFree™* Cooling can help you to set the environment for a deep, comfortable sleep to wake up feeling fully refreshed.
Breathes in the things you shouldn't

Tri-Care Filter
Keep the air hygienic and maintain the performance of the Heat Exchanger with a Tri-Care Filter. Its 3 layers include a high-density filter that is designed to help extract large dust particles, fibers and even animal hairs. It also has a Zeolite Coating Filter that is designed to help capture fine dust, and reduce certain potentially dangerous viruses, bacteria and allergens.    
Keep Fresh
Auto Clean Function
When the Air Conditioner unit is turned off, the Auto Clean function automatically runs the fan on low speed for a period of time to dry off moisture within the heat exchanger of the indoor unit. This keeps it dry to minimise the growth of bacteria.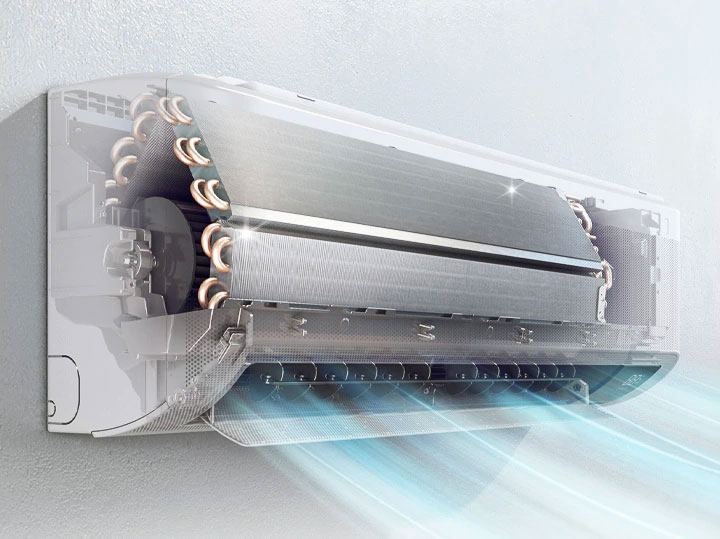 Cool the house from your commute
Wi-Fi and the SmartThings app
Control your home air conditioner from anywhere, at anytime using the Samsung SmartThings App. You can control and monitor the air conditioner remotely with just a touch.
Does the thinking for you
AI Auto Cooling
AI Auto Cooling* is designed to automatically optimise the various modes by analysing room conditions and usage patterns.** Based on your preferred temperature, it can automatically switch to the most appropriate mode to maintain desirable conditions.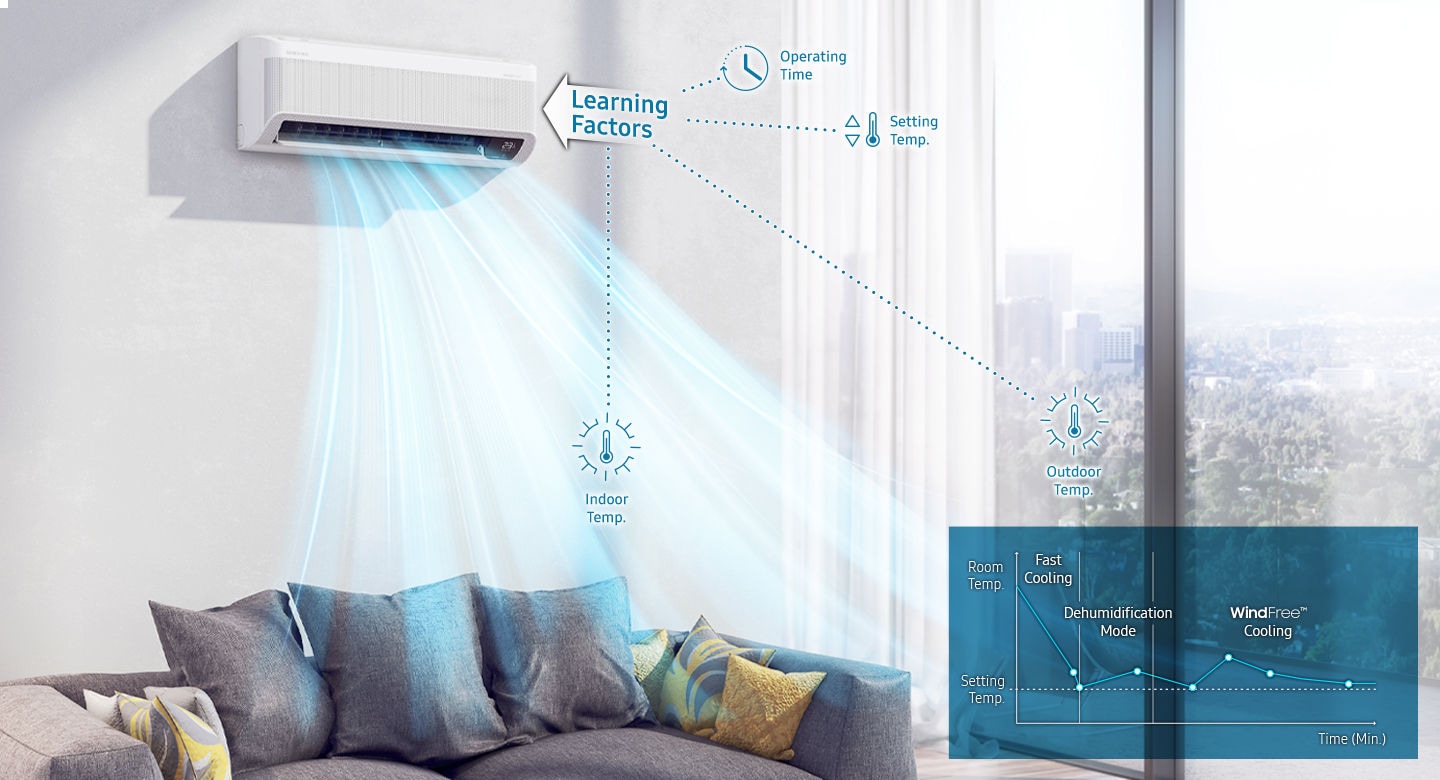 Rest assured with Samsung Quality
5 Year Parts and Labour Warranty
Samsung wall mounted splits are supported by 5 year parts and labour warranty for residential applications.` Full terms and conditions visit.
Specification :
| | |
| --- | --- |
| Model | F-AR30TXEABWK1 |
| Cooling Output (kW) | 8.0kW |
| Heating Output (kW) | 9.0kW |
| Energy Efficiency (Cooling) | 2 Stars |
| Energy Efficiency (Heating) | 2 Stars |
| Product Width (cm) | 105.5 |
| Product Depth (cm) | 21.5 |
| Product Height (cm) | 29.9 |
| Manufacturers Express Warranty (months) | 60 |